Homegrown Chicken Feed...
Healthy chickens lays healthy eggs

The quality of your eggs is directly related to the care & feeding you put into your flock. Our birds live on seeds & grain, of which, 60% of the ingredients are produced on our land (mainly wheat, barley & field beans), as well as our lovely grass, clover & whatever bugs and weeds they find foraging around their 18 acres of land. This contains all the nutrients they need to lay delicious eggs every day.
The feed is carefully formulated with a balance of proteins, vitamins and minerals to help ensure good health, strong egg shells and yolk colour.

Purchasing our homegrown Chicken feed
If you would like your chickens to lay the perfect egg (just like ours) you can now purchase our homegrown Chicken feed at a very reasonable price. This can be bought in 5kg or 10kg bags or by filling up your own plastic container. Just let us know if you would like to pick it up or if it is on our route we can deliver it!
A 10kg bag should last around 5 weeks for two chickens.

Fun Fact...
Did you know nearly 50% of an egg's volume is water? Not only does your chicken need fresh water to keep her body healthy, but having access to clean water at all times is vital to egg making. This means keeping water unfrozen in the winter and providing extra water in the hot summer months.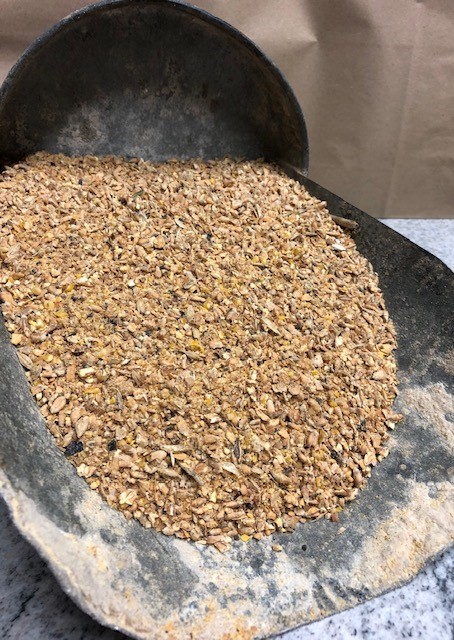 "Great Service as when I was running low of my chicken feed I managed to pick some up the next day. The hens love this meal the best and it certainly helps keep the egg production high "
Sarah Thompson,
Oxfordshire
This Chicken feed has turned our bald chickens into plump fluffy characters. They adore it and cluck excitedly when I start pouring it out. It's obviously packed with good natural stuff and I'm not sure I could convince them to eat anything else.

Niall Carmichael,
Buckinghamshire
"My chickens go mad for it. Something they don't do with other feed. I get beautiful eggs with nice bright yolks and strong shells. The Chicken feed is always available on time with quick responses."
Dan John,
Oxfordshire